Wow. Can you believe we're only two days away from the end of January? Can you believe that at the beginning of the month I wanted to be finished editing beta reader comments for Sparrow Singing?
lol neither can I. XD
Highlights of the Month:
January has flown by. This semester I'm doing a dual credit Earth and Science class. It's been interesting, to say the least, and so much different than the Spanish class I took last semester.
Another fun life fact, I went to audition for my co-op's play, Alice in Wonderland.
Okay, story time. These plays my co-op puts on usually aren't 'little productions,' by any means. They'll run for two hours or more, have set change after set change, costumes, and it will even be recorded and put on DVD. I've never done it before, of course. Me, the introvert? On stage saying lines? Um, no. That is not me.
Last year I worked on the crew, and helped with props n'such. But it was so fun getting to be around all of my friends and seeing a play come to life…So this year I decided to audition. When I arrived I was shaking and well… we won't go into details, but it wasn't pretty.
Some friends pulled me out of the bathroom with just enough time for me to audition. Later that night I got a call back from the three 'directors,' and apparently, I'm Alice. Well, one of the two Alice's (it's a big role and they didn't want to chance having one Alice and her then getting sick)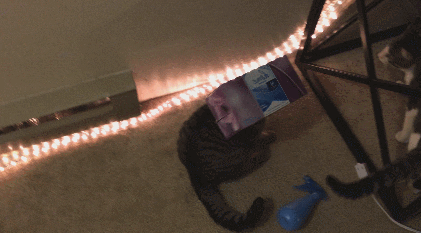 So that goes to show you: Try new things. Don't be too worried about stepping outside your comfort zone, even if your whole body is screaming at you to: a) continuing hiding in the bathroom, b) get your keys and drive home and never come out from under the covers c) take the easy route out and do the small job. You have to let go of your worry and anxiety and trust God.
9 But He said to me, "My grace is sufficient for you, for My power is perfected in weakness." Therefore I will boast all the more gladly in my weaknesses, so that the power of Christ may rest on me. 10 That is why, for the sake of Christ, I delight in weaknesses, in insults, in hardships, in persecutions, in difficulties. For when I am weak, then I am strong.
You may regret it later on, when you look back on all those chances you had that you didn't take. Especially if you're in highschool. As highschooler, do you even realize how many opportunities there are to do all kinds of things? Yes, even if you're homescooled like I am! Trying new sports, taking dual-credit college classes, learning new languages, learning an instrument, getting into conferences for cheaper prices, or trying out for drama.
You don't have to become a professional basketball player or a flutist or major in Russian… but you probably won't have another chance to try those things after highschool if you don't.
Anyway, rant over. Onto books and other writerly things. XD
Books read:
I read some great fantasy and some great historical fiction… however, another short story:
I've been reading more of the Lunar Chronicles this month. Unbeknownst to me, when I finished Cress I was supposed to read Fairest. I went to the library and got Winter, even though Fairest was sitting right there on the shelf like it had been for months… I asked twitter and yes, Fairest is 3.5 and Winter is 4, so I needed to got back and get Fairest.
I went the next week and Fairest was gone and I asked the librarian what happened, fairest isn't even in the system anymore, and apparently in that one weeks time their only copy was lost/destroyed/broken. -.-

So I'm stuck until the inter-library loan arrives. But this is such a first world problem. I should be thankful I'm even capable of reading and have access to books. XD
Blogging:
I thought about changing my blogging schedule back to twice a week, but since I'm in a play, we're going to stick to once a week. Every Sunday, if all goes well. XD
Writing:
At the beginning of this month, I set out to finish editing my Beta reader's comments. I'm about 67% of the way through. It's my own fault for not getting it done sooner. I'll get stuck on one thing or just look at Scrivener and think "meh" instead of writing.
My newish deadline is February 5th. Then:
Only nine more chapters left to edit of #SparrowSinging

… that is, before I print the whole thing out and edit it again. 😅

— Jeneca Z. (@jenecawrites) January 28, 2017
In February:
*releases breath.* 1/12 of the year done. Five months until my birthday, until summer… I shouldn't be thinking about Summer.
Well, in February I'm hoping to keep plodding along with school and then memorizing lines. Prayers would be appreciated, as my knowledge is limited in this area. XD
I'm also hoping to finish the Lunar Chronicles! I need more Cress and Thorne…. and Kai and Cinder… and you know, Wolf and Scarlet. And Iko. 😅 No spoliers, please.
How did the first month of YOUR year go? How's school, writing, life, reading, blogging, breathing, going for you?